I often get asked what the benefits of printable planner inserts are and why I prefer them over pre-printed inserts.
When I started planning in my very first Filofax (back in the 1990ies) there were almost no choices for planner inserts on the market. Times have certainly changed and we now can choose from a wide variety of inserts which fully meet our needs. A few years ago most planner shops did only offer printed inserts but recently I have seen more and more printable inserts on the market.
Lets have a look on the benefits of printable inserts and the reason why they are so popular:
Print your planner inserts just when you need them
One of the benefits of printable planner inserts is printing them just when you need them. Just open the file and send it to your printer. Even if you don't print them yourself, you just have to go to a print shop to get them printed in just the quantity you need.
There are some types of inserts like dated calendars which you most certainly know you will need throughout a year. Then there are others, more specific pages you only will add to your planner if you need them, for example lists and trackers. Knowing how many pages of these you will need is sometimes hard to guess. Owning some printable files for these types of inserts and being able to print them is convenient.
Print on your favorite paper
There is a wide variety of papers available where you can print your inserts on. Each of us likes certain papers more than others, depending on the pens we use or which kind of feel we prefer.
With printed inserts you cannot choose the type of paper the inserts are printed on. Sometimes the shop does not even specify the paper it is printing the planner inserts on. Printing your own inserts from a printable file, you have total control of which paper you want to use.
From my personal experience, I found using two types of paper is ideal: thicker 120gsm paper for pages that will be used a long time in my planner and thinner 50gsm paper for temporary or short-term inserts like daily pages or notes.
Change the style or layout of your inserts without feeling guilty
Life changes constantly. There are easy-going weeks and busy months in our life.Our planners need to be able to keep up with these changes in order to really work for us. Buying printed inserts often has made me feel guilty when I didn't use them. They were just going into the bin after their date had expired unused.
With printable inserts you can change the layout and style of your planner to your current needs without feeling guilty of wasting already printed inserts. With dated inserts this is a definitive plus of printable inserts as they cannot be used at a later time.
If you like to change your style of insert from time to time, you maybe want to have a look at the printable planner inserts I have created.
Save on shipping costs the ecofriendly way
Printable planner inserts are usually PDF files you receive via a download link or e-mail while printed inserts have to be shipped to you. If you happen to live outside the United States like I am, shipping costs often exceed the product cost.
With printable inserts there is no shipping, hence no shipping cost. Printable inserts are also more eco-friendly as they don't need to be transported through the country or overseas. If you are printing them on recycled paper, they are even more eco-friendly!
Use the inserts right after you have bought them
While most of us feel some form of excitement when receiving a letter or package, ordering printed inserts includes some waiting time until we can use them. Depending on where the shop you buy from is located this could be weeks, in some rare cases even months. Sometimes I just need an insert immediately to add something to my planner.
Printable inserts are the best solution for eager people who don't want to wait until the order arrives.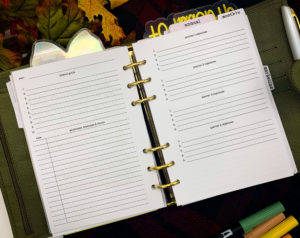 Most planner shops offer you either a download link in the confirmation mail you receive upon finishing your order or provide you a customer area you see all your orders and available files to download. So if you happen to delete the file by accident on your computer you can still download the insert at a later time.
Save money by re-useing the inserts over and over
A major benefit of printable planner inserts is that they are a budget friendly option. With printed inserts, once you have used them, you will need to invest some money and buy them again. Printable planner inserts can be re-used over and over again, once you have purchased them you can print them as many times as you need.
This is especially beneficial if you are planning on a tight budget and cannot afford expensive printed inserts. Most printable planner inserts are priced between 1$ and 5$, with the exception of very complex or extensive inserts.