Since I started using paper planners many years ago, I have gathered valuable experience when it comes to the absolute must-have planner essentials for paper planners. I have spent a little fortune on items just to find that they were not really necessary. To save you from a similar experience, I have summarized the things you need to start planning in your paper planner.
The absolute must-have paper planner essentials for beginners, regardless of which paper planner you use, include a pen, a fine-tip permanent marker, at least one highlighter, page markers or tabs, sticky notes, and correction tape.
There are some things to consider when choosing your own must-have paper planner essentials. Let's have a look at each category so you can make an informed decision. I will also reveal my personal favorite of each category.
What you will need to start using a paper planner
The most obvious thing you need to use in your planner is a pen. There are different varieties out of these, which might be overwhelming if you are just starting. If you just start your paper planner journey, don't fall into the rabbit hole of buying all the things at once. My best advice for you is, to use the pen you already have at hand.
I also keep a fine tip permanent marker with me in my little pen pouch. This is a great pen to have in case you have a slippery surface to write on such as transparent page flags or tabs to mark specific pages in your planner.
Sometimes we need things we wrote down to stand out a bit more. Here comes the third pen you should have in your paper planner essentials: a highlighter. The color is not important, I would recommend one that is not too light in color.
Let's be honest: there are pages in your planner which you might want to find quickly but only for a limited time, like travel plans. You most likely will not need a permanent section in your planner just for travel plans (except you are traveling on a regular basis), so using page flags or sticky tabs is the perfect solution for you. There are a wide variety of these sticky tabs available on the market and usually, they cost well under 5$.
Last, but not least, you should add correction tape to your planner essentials. Plans sometimes change or you need to correct a misspelled word or wrongly noted time for an appointment. To keep your planner neat and organized, a correction tape is a very good choice.
Let's have a more detailed look into each of these planner essentials categories.
Pens to write within your planner
As mentioned earlier there are a variety of different styles to choose from: rollerball, gel pens, fountain pens, erasable pens, etc.
One thing to look out for is, how smear-resistant the ink is and how fast it dries on your paper. Nothing looks more blowsy than smeared ink. While most paper planners have a rougher paper, some planners and notebooks have a smoother surface which makes the ink dry a bit more slowly. I prefer gel pens with black ink as the ink is very saturated and it writes in a clean line.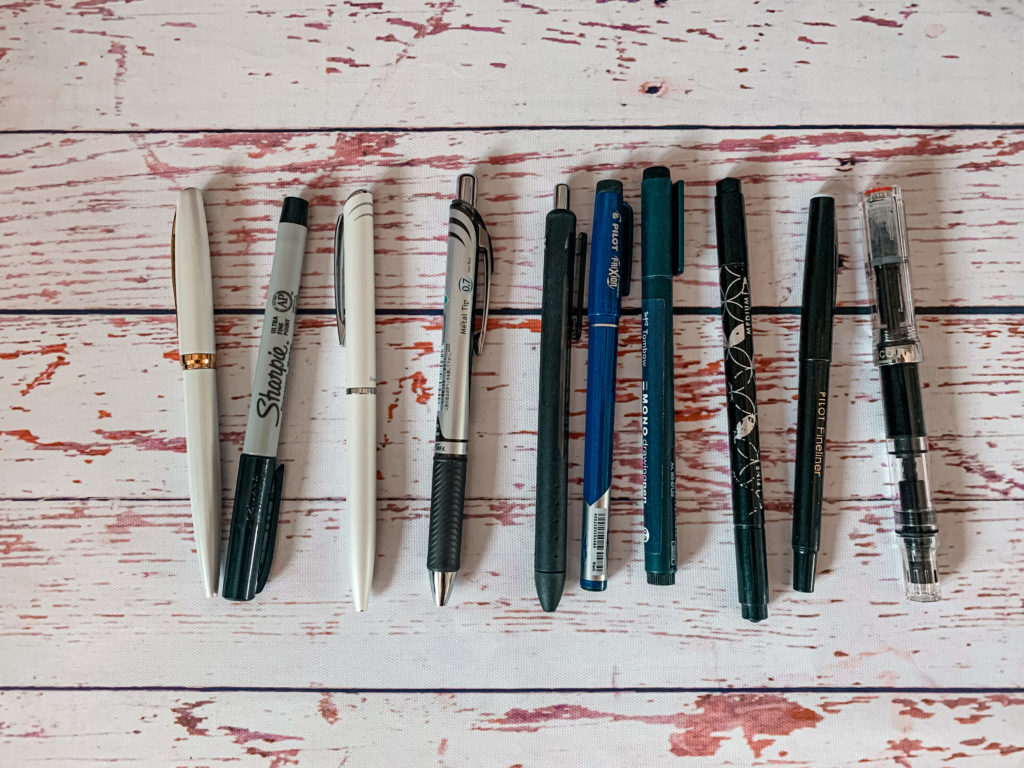 As you will hold your pen often and sometimes for a longer time period, make sure that it is sitting comfortable in your hand. Personally, I recommend round barrels over square or octagonal shaped pens as they don't have any sharp edges.
Another thing I look out for when choosing a pen is, if there is the possibility to change and refill the ink cartridge. This way I can reduce waste and use my beloved pen over and over.
Depending on your personal style, check if the pen is available in your favorite pen color. From what I have soon on Social Media most people use black or dark blue ink.
One pen which meets all of the criteria is the Energel Clena with a 0.5mm needle tip which I got from Amazon. There are barrels in different colors available, it is refillable and has a very comfortable grip. The only downside of this pen is, that it is sometimes hard to fit into pen loops of my planners. This brings me to my absolute favorite pen of all: the Pentel Energel Style Pen, also available on Amazon. It has a sleek metal barrel that slides into the pen loops easily and it can also be refilled with the same type of ink cartridges as the Energel Clena.
fine tip permanent marker
There are some surfaces like those sticky tabs from brands like post-it where the ink from your regular pen will smear. Naturally there is another pen which you should have in your pen pouch: a fine tip permanent marker.
My personal favorite is the Sharpie Ultra Fine Point Permanent Marker. Unfortunately, this one is not available in Austria, so I have to grab a multi-pack each time I visit the USA or order it on Amazon.
Highlighters
Highlighters come in handy if we want things to stand out a bit. They are also a good choice if you prefer a color code in your planner as I do.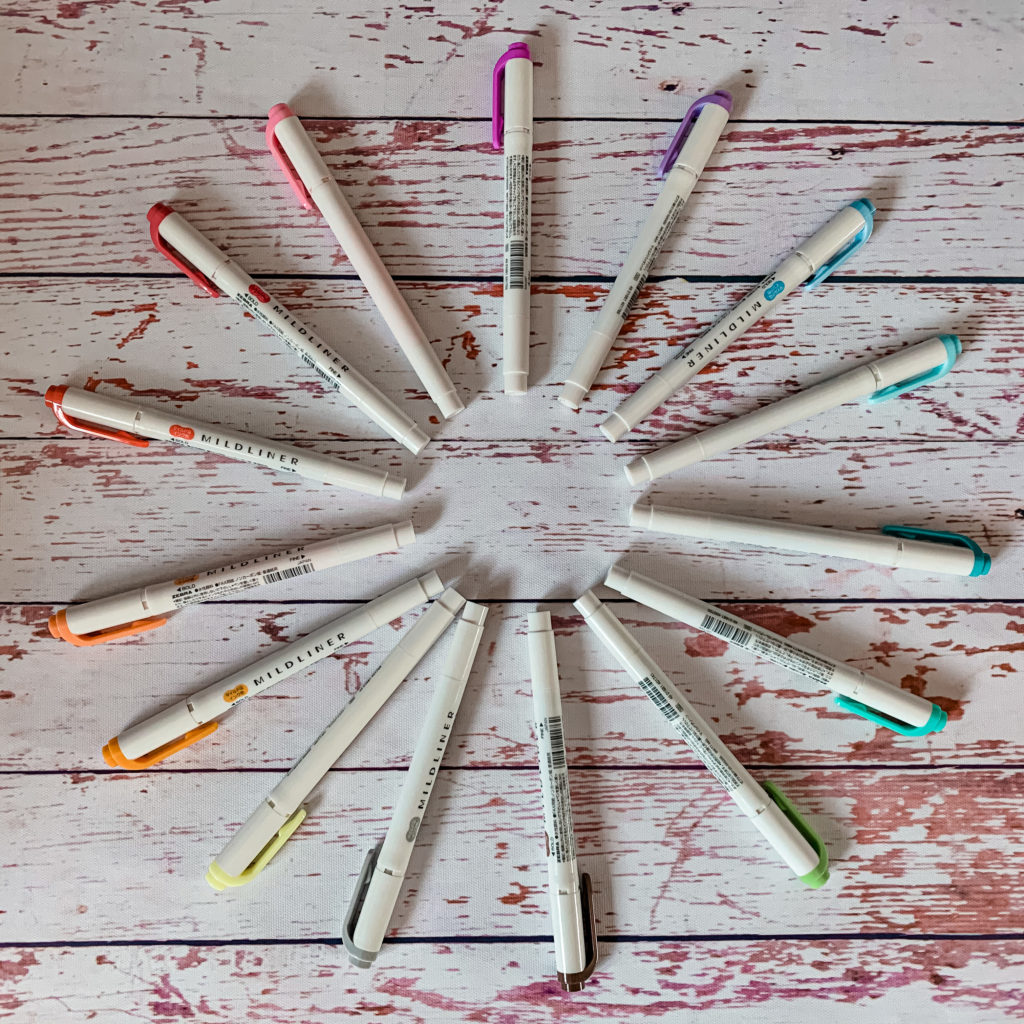 One thing to test before using a highlighter in your planner is if they bleed through to the other side of the page. Recently I got these amazing metallic look highlighters from Faber Castell, unfortunately they tend to bleed on almost every paper I have tried them on.
The thinner the paper, the more prone it is for pens to bleed through or leave a bit of shadowing.
A very popular brand of highlighters (and my personal favorite) is the Zebra Mildliners. They have a broad tip end and a finer tip end, there are a lot of colors available and they don't smear on most papers when I use my favorite Pentel Energel to write something down first. Also, I have found that they don't even leave a shadow on the back of your page if you stick to the lighter colors.
Quickly find important information with page markers or tabs
Sometimes we need to find pages in our planners often / fast but they are just a temporary content of our planners. The perfect planner accessoire to have in such cases are page markers.
Page markers are usually sticky notes but shaped in a very slim shape although there are other tab-shaped page markers available on the market as well.
If you need tabs to stick on more permanently, you can opt for tab stickers or washi tab tape.
Sticky Notes
A good thing to have if starting out with planning in a paper planner is sticky notes. There are the classic light yellow ones from Post-It, which you can never go wrong with. If you like to spice it up a bit, there are a ton of shops out there that offer sticky notes in all sizes, colors, and shapes.
I use sticky notes if the space on my planner page is not enough (like on ultra-busy days) or if I want to move a note on my daily pages as I use them.
Correction Tape
Last but not least, you should get correction tape. This helper comes in if you mess up, things change or are canceled. Instead of just striking things through, the use of correction tape keeps your planner pages tidy and neat. This way you don't lose focus on the important things at hand.
In case you want to see what else I keep in my planner/pen pouch, I have a video for you where I just show you all my paper planning essentials!